On April 24, 2021 volunteers took to their neighborhoods, local waterways, and Travis County Parks to clean and beautify around our most precious resource, the Texas Colorado River.
Collectively, 150 volunteers spent 454 hours picking up litter, removing invasive species, and revamping park structures. Great work, everyone! We hope you will celebrate your tremendous impact and continue promoting stewardship of our river and parks.
The Texas Colorado River supplies drinking water for 1.5 million people in Central Texas as well as providing us with opportunities to boat, fish, SUP, kayak, and enjoy water safely. Since the COVID-19 pandemic began, it is more important than ever to cherish our natural resources and care for our outdoor spaces.
Those familiar with the Lake Travis Cleanup know the immense impact this annual event has on our parks and river. For 26 years, about 1,000 volunteers joined us each year to remove more than 5 tons of trash and debris from Lake Travis! After a successful Fall 2020 event, Colorado River Alliance and Travis County Parks are offering a socially-distanced spring cleanup event.
The Spring Clean Downstream includes hundreds of volunteer opportunities in more than 10 park locations! In addition to removing litter from shoreline parks, you will help us celebrate Earth Day by removing invasive species, planting natives, and repairing and beautifying park structures. A full list of projects, shift times, and volunteer numbers can be found on the registration site beginning Monday, March 22, 2021.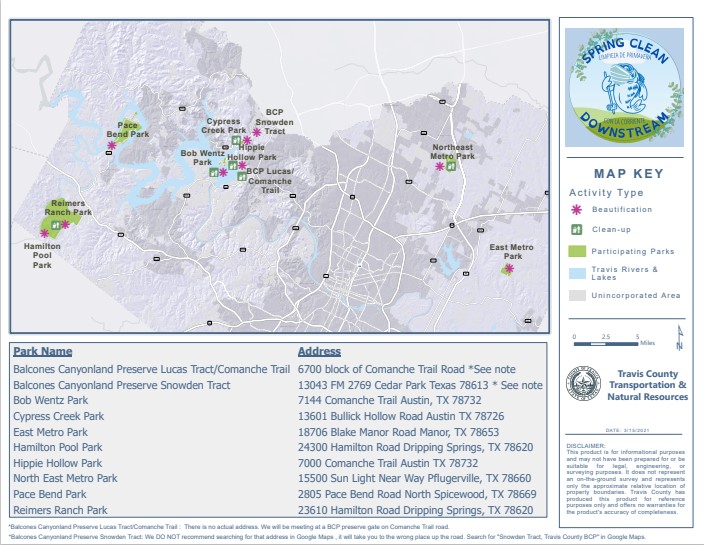 For up-to-date information, follow our Instagram.